Phil Stevens has always been a keen mountain biker and cycle commuter - "if I get on my bike, I can go anywhere!" He is passionate about the benefits of cycling, to the environment, and to a person's health. He wants to encourage what he calls 'utility cycling', that is, cycling for everyday travel, to work, school, shops and socializing.
Phil started mountain bike coaching with the Manawatū Mountain Bike Club in 2010. He quickly realized these skills can be applied to riding on public roads, and began helping to run workshops for school children and adults as a volunteer with Cycling NZ and Sport Manawatū. His CV now includes New Zealand Qualifications Authority certified cycle skills trainer and assessor, Qualified Cycle Skills Assessor for Skills Active, and BikeReady Tutor, training cycle skills instructors. He now works for Sport Manawatū, running road cycling skills workshops for children in primary schools, and for adults in the Green Prescription program.
Phil believes that being able to cycle and use cycling as a means of transport is an essential life skill for every New Zealander. "The satisfaction I get from seeing a child and an adult ride a bike for the first time is real, and it opens up a whole new world of transport and recreational freedom for them. I believe that children who ride bikes on the road become better drivers when they obtain their licences, and adults who cycle on the road are more patient and empathetic drivers."
Phil says a cyclist needs to be courteous but also confident, assertive but not aggressive, when sharing space with cars. With the recent increase in use of e-bikes, he sees an increasing need for these skills. Good rider behaviour can help prevent "bikelash", a sort of tribalism by motorists against cyclists and cycling infrastructure.
Phil is in the Palmerston North City Council's People on Bikes Forum, a group of bike riders which advises the Council on issues related to cycling. They were successful in getting "sharrows" painted on Broadway Ave, George St and other streets around Palmerston North inner city. A sharrow is a double-chevron road marking indicating a shared cycle/vehicle lane. It warns motorists that this is an important cycle route, and encourages cyclists to use more of the lane, in places where there is not enough room for a dedicated cycle lane.
In his imminent "gold card days", Phil would like to move from teaching children to ride, to teaching adults to become utility cyclists. He notes that adults often think they don't need to learn about cycling skills and behaviour, but he's of the opinion that better physical skills are needed, as well as better cyclist behaviour, such as courtesy. He would also like to encourage schools and workplaces to install dedicated or additional bike parking areas and end-of-journey facilities for the increasing numbers of children cycling to school, and adults making their daily work and shopping journeys by bike.
Phil is a long-time member of Cycle Aware Manawatū (CAM), who aim to encourage greater awareness of the benefits of riding a bike, and better provision for cycling. CAM welcomes contact from anyone interested in supporting their vision, aim and activities. CAM and other local bike riders have had Full Moon Bike Rides, and participated in the Palmerston North Festival of Cycling in 2018, which included a dress-up retro ride. This ride included a penny-farthing rider, in period costume! Occasional social bike rides are still held, and it's hoped these will become more regular. There's a "Bikes & Beers" event coming up on Tuesday 6 October 5:30pm. This is a low-speed ride for everyday bike riders, primarily on shared paths and bike lanes, finishing at a pub for a beverage and bit of banter. So we might see you there!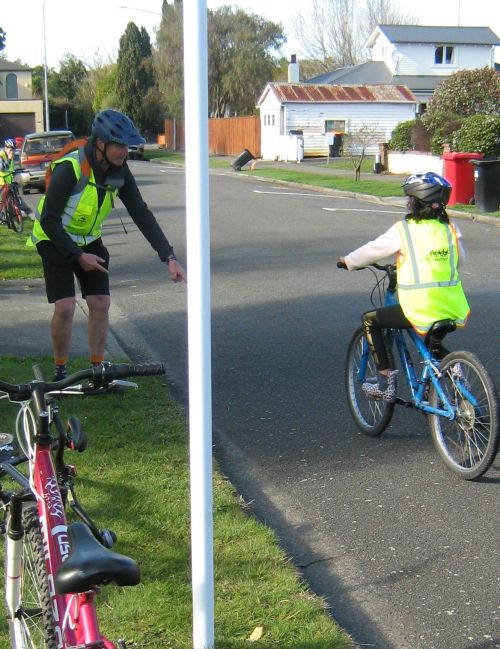 ---