Where to access food support in our community.
Food Banks.
A food bank collects, stores, packs, and distributes food and other needed items to people experiencing food insecurity. They are often linked to social service agencies. There can be a criteria as to whether you are able to access food.
Palmerston North Methodist Social Services
Open Tuesday, Thursday and Friday, 12.30-2.30pm.
https://www.pnmss.nz/services/foodbank.html
Salvation Army Palmerston North Food Bank
421 Church Street
Ph 358 7455 for an appointment
Food Bank hours: 10-11.30am Mon/Weds/Fri - by appointment
https://www.salvationarmy.org.nz/centres/nz/lower-north-island/palmerston-north
Salvation Army, Woodville
69 McLean Street
Ph 376 5688
Manchester House, Feilding
Manchester House operates a food bank every week day to assist people who are in crisis meet their emergency food needs. Bread and fresh fruit and vegetables are also readily available on the sharing table which is situated inside the main entrance of the Social Services Hub. Clients who need a food parcel are also required to meet with a budgeting advisor who can discuss their long term needs and help them become more financially resilient.
Ph 323 7191
68 Aorangi Street, Feilding
https://manchesterhouse.co.nz/emergency-food-support/
Niuvaka Trust
Food parcels and other social services focusig on Pasifika families
Phone 022 5972569 to arrange a food parcel.
59 Queen Street, Palmerston North
Papaioea Pasifika Community Trust
Provides food parcels and other social services for Pasifika families.
Ph 0211770654
Pasifika Centre, Bill Brown Park.
St Vinnies
Food parcel deliveries and support with clothing and household items.
Call 06 3576779 to arrange a food parcel
252 Rangitikei Street.
Community Meals
Luck Venue
Luck Venue offer a free breakfast Monday to Friday from 9am can provide Kai packs for whanau in need. Their services are open over the holiday period.
Ph 06 357-6798
90 Berrymans Lane, Palmerston North
Legacy Just Hope Monday Meal
Free hot meals on Monday nights. Doors open 5.30, meal served at 6pm
Legacy Centre, cnr. Highbury and Brentwood Avenue
Ph 027 270 5715
https://legacy.net.nz/just-hope/
Just Life
A free community meal held at Gateway's from 5-8pm on Monday
174-178 Church Street.
The Street Van
Hot food distributed every Saturday night 10pm- 2am.
Te Marae o hine, The Square.
Eat Up NZ
A Palmerston North-based social enterprise engaging corporate volunteers to make free lunches for primary school children
National Food Sharing Directories
Zero Hunger national directory
A map showing food sharing sites around the country
'Find a Food Bank' directory
Where are the food banks around New Zealand?
Pātaka Kai (Sharing Shelves)
Click here to access the list of Pātaka Kai in Palmerston North
Crop Swaps
Crop Swaps are free events where gardeners and growers can share crops, seeds, seedlings and other garden-related things. Read about Palmy Crop Swap here.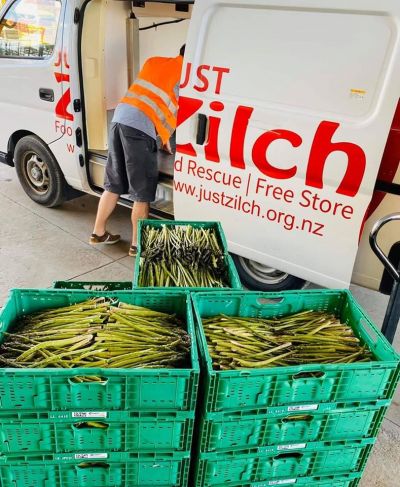 Free Stores / Food Rescue
Free Stores differ from Food Banks in that they operate on a 'no need to prove need' or 'no criteria' basis. They also serve the environmental purpose of food rescue - keeping edible food out of landfill!
Just Zilch
248 Featherston Street, Palmerston North. Open weekdays 1.30pm-6pm. Bring your own bags
Te Pataka Kai 4412
140-148 Maxwell's Line, Awapuni. Open Monday and Friday 1-2 pm. Please bring your own bags and park on the road as the parking within the gates is needed for the health centre.
Te Pataka Kai 4412 is a safe and friendly space for whanau to come and get kai with no questions asked or no citeria to meet.
Best Care (Whakapai Hauora) Charitable Trust is working with other Manawatu partners to provide kai within our 4412 community.
For updates follow Pataka Kai 4412
Te Whare Koha
This is a koha shop with free food and secondhand items.
42 Pembroke St. Monday-Friday 9.30am-12pm.
https://www.facebook.com/TeWhareKohaHighbury
Te Awahou Kai - Foxton
Whyte Street, Foxton. Mondays 4.30-5.30pm
Ph 027 221 3561
https://www.facebook.com/teawahoukai
Hope Hub, Levin's Free Food Store
3 Kent Street, Levin. Wednesday 2-4pm, with occassional 'pop ups' advertised via the Facebook page.
Ph 022 363 4409
https://www.facebook.com/LevinFreeFoodStore/
Shannon Kai Hub. Shannon
36 Plimmer Tce, Shannon.
Open Tuesday – Saturday 10 am – 3pm.
A community led centre distributing free food to the community and groups, supported with the aid of onsite shops.
(5) Shannon Kai Hub | Facebook