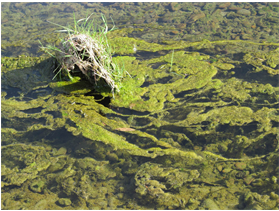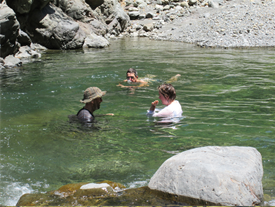 Algae growth in a polluted river . . . . . vs. . . . . People enjoying a clean river
The Water Protection Society holds water polluters to account. People and organisations who want to pollute waterways have to get permission from the Regional Council to do so. This requires a 'consent'. The Society has submitted on these consents and tried to get the applicants to stop discharging to streams and rivers.
These endeavours have been successful. Partly because of input from WPS, Commissioners and the Environment Court (where these cases sometimes end up) are clearly now expecting higher standards and greater certainty from applicants. And where applicants can't or won't do this, they are being given only short term consents such as 10 years instead of the 35 years they generally apply for.
Applications WPS have played a part in getting better outcomes on include municipal wastewater plants at Taihape, Hunterville, Feilding, Pahiatua, Eketahuna, Foxton, and also the AFFCO wastewater plant at Feilding.
WPS is currently wanting to increase public awareness and engagement so more people can contribute to restoring waterways to the way they should be – as clean as ... .

If you'd like to join WPS, or if you have any skills you'd like to share, to help continue the work and be even more effective, please email. Skills needed include design, sales, teaching, farm management, irrigation, civil construction (e.g. piping, pumps and ponds), economics, legal, water science, landscape, ecology and others.